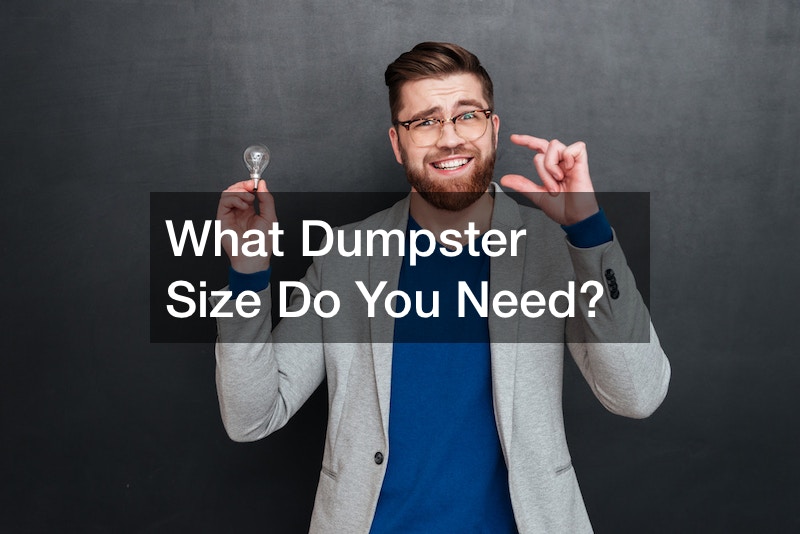 What Dumpster Size Do You Need?
When it comes to planning your waste disposal needs, selecting the appropriate dumpster size is crucial. Dumpster rental services offer a range of options to accommodate various projects, making it essential to determine the right size for your specific requirements.
Small Projects:


For minor home cleanouts or small-scale renovations, consider a 10-yard dumpster. It can hold the equivalent of three pickup truck loads of debris, making it suitable for limited space and less substantial waste volumes.

Medium Projects:


Mid-sized projects like kitchen remodels or moderate-sized cleanouts may necessitate a 20-yard dumpster. With a capacity of around six pickup truck loads, it strikes a balance between space efficiency and waste capacity.

Large Projects:


For extensive construction, commercial, or industrial endeavors, opt for a 40-yard dumpster. These large containers can handle approximately 12 pickup truck loads of debris, making them ideal for sizable projects where waste generation is substantial.

Special Considerations:


Keep in mind that weight restrictions may apply, so consult with your dumpster lease service provider regarding specific weight limits for the chosen dumpster size. Additionally, consider the accessibility of your location.
Choosing the right dumpster size from dumpster rental services is dependent on the scope of your project and the amount of waste you anticipate generating. By selecting the right size, you can ensure efficient waste disposal and avoid overpaying for unnecessary capacity. Consult with your dumpster provider to make an informed decision and streamline your waste management process.
.