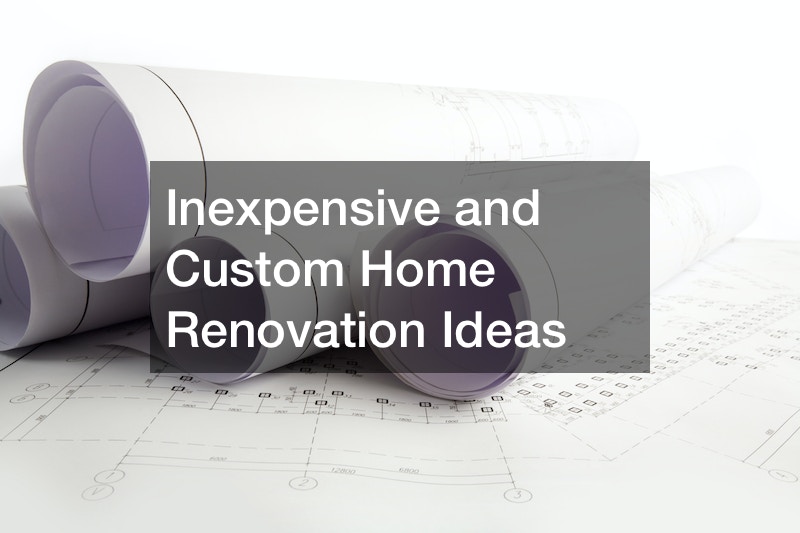 Inexpensive and Custom Home Renovation Ideas
Remodeling your home is the act of changing its design and functionality. This could include tearing down walls to expand the bathroom or moving cabinets, fridge, sink and range around the kitchen. Online apps can help you visualize your exterior home project before spending any money. You just need to take some photos with your smartphone of your house. These applications allow you to create a 3D model of your home, which can be used for designing your remodel.
A designer for house remodeling creates beautiful, safe and functional indoor spaces by determining the space required and selecting both decorative and essential elements such as lighting, colors, and materials. A designer must be proficient at reading and editing blueprints. It is important to plan ahead before you start a home remodel, especially if it is your first time. A DIY home renovation checklist is a must.
You can improve your home without going into debt. However, whole-house renovation solutions can increase your house's value. Painting, re-grouting and tiling your exterior won't be expensive if you do it yourself.
Are you looking for renovation solutions to update your home? Do you have a tight budget? We have the perfect solution for you if you answered "yes" to both of these questions. It can be monotonous to stay in the same place with the same design for too long.
You can make your home more interesting or functional by changing it from time to time. Although home remodeling can seem costly, if you approach the matter in a thoughtful way you can achieve the design you want without spending a lot of money. How can you start? To help you get started with your home renovation solutions, we have put together a list of affordable renovation ideas.
How to Redesign Your House with a Low Budget
It is not cheap to hire labor. You will need multiple contractors to complete your extensive renovation. You might find that professional contractors charge very high prices. This could increase your budget. You can save money by doing some of the work yourself to keep labor costs down. Painting can be a cost-saving task. You can, for example, paint your kitchen cabinets instead of having to replace them. It is important to only take on tasks that are safe and efficient. To avoid more expense, don't take on any tasks you are not confident with.
Buy Recycled Materials
Many organizations that work to protect the environment also sell recycled and leftover materials. These materials are often sold below retail prices, making them more affordable. This encourages people use them more. This is a great way to save money on your home improvement projects. There are many other options for finding more supplies, such as garage sales, second-hand shops and auctions. You can be sure that the items you buy are in excellent condition and will not compromise on quality.
Buy Directly from the Manufacturer
Directly purchasing from the manufacturer can save you a lot of money. Materials are often expensive due to many additional costs. There are transportation costs, taxes, and other costs before the materials reach the retailer. You are more likely to get them for a lower price if you buy directly.
Retain Plumbing Configurations
You don't want to alter the overall layout of your house when you are renovating it. A plumbing contractor will need to install new plumbing and fix existing pipes that are being redirected to the sewer lines. To reroute pipes, you will need to remove floors and walls. This could cause damage to the structure of the building, and can be a costly undertaking. It is best to keep the original configurations and to look for new ideas. To ensure the tank is effective in treating waste, you can do a septic clean.
Set a budget
You can plan for the future by creating a budget for home renovations. You can also see projected costs and look for alternative financing options if you have limited funds. You will also realize how you can save money by planning ahead. For example, bulk purchasing materials to reduce transport costs.
Cheap Ideas for House Renovation
First, choose the areas you want to renovate. While some people choose to renovate only the living room, kitchen, or bathrooms, others may decide to remodel the whole house. These cheap ideas can be incorporated into your home depending on your personal style.
Replacing Counter Tops
Replacing countertops is the ultimate way to update a bathroom or kitchen. You can transform your space with a new slab of marble. You can cover countertops with marble in a different color if you don't want to take them out. These will make your countertops look brand new without the need to purchase new slabs.
Cabinet Spray Paint
You can paint cabinets in a different color if your cabinets are in good condition. Cabinet installation can be very expensive. If you're on a tight budget, it is important to find affordable ways to make your projects come to life. Spray painting is an easy task that you can do by yourself. To brighten the space and make it more open, use a lighter color.
Make custom storage
People redesign their homes to improve efficiency and function. You might find your home is full of clutter and want to make it more organized. It is easy to redesign your home with custom storage. You can make use of your pantry to add shelves or organize your space.
Integrate tiles
Your bathroom speaks volumes about you. Even though it's a small space, spending too much money on your bathroom could cause you to spend a lot of your budget. For a fresh look, you can integrate new tiles into your bathroom to save money. To keep costs down, you can tile the areas that are most susceptible to water damage and then paint the rest.
Replace plumbing fixtures
We've already discussed maintaining the house's plumbing system. You can still modify the plumbing fixtures such as your faucets and sinks. You can choose sensor faucets to save water, and vanity sinks for more storage or space savings. A cabinet can be built below the sink to store towels and cleaning products.
Update lighting fixtures
A room's lighting creates an atmosphere and reflects shadows, which brightens it. In seconds, a simple lighting fixture can transform the look of a room. As a focal point in your living space, you can either choose a large piece or more subtle pieces like wall lamps or bedside lamps. You can save money on electrical upgrades if you buy directly from the manufacturer and have an electrician install them.
Make an accent wall
Accent walls are a focal point in any room of your home. The accent wall is meant to be prominent and set the tone in the room. You can choose from many different designs and create a masterpiece. Accent walls are easy to DIY. It's possible to paint, wallpaper it or create a unique design.
Vinyl is a great option for windows and doors
Vinyl is a good choice for glass doors and windows. Vinyl is energy-efficient, long-lasting, and easy to maintain. There is no need to worry about mold or rot damaging your glass frames and windows. Vinyl gives your home a new, polished look. Vinyl can be painted or stained in a variety of colors so you can match your windows and doors.
Your HVAC system should be replaced
A central air system can improve the energy efficiency of your home and reduce your electricity bills. You'll likely have to dig up your roof so check the ductwork before you replace your HVAC system. Central air installations are more cost-effective, last longer, and have a longer warranty. An enhanced air conditioning system is therefore more efficient and less expensive.
Remodel your backyard
Now is the right time to start a garden. It is time to renovate a backyard if you already have one. You can reuse many items in your backyard to make it functional. You could reuse old furniture to build a patio or deck. Planting low-maintenance plants and flowers can be used to create a small backyard garden or add greenery. This is a cost-effective method that requires only the watering of the plants. Make the most of the rainy season by installing aluminum gutters to collect water and direct it to a storage container. Then water the garden.
Improve your landscaping
Your outdoor space needs to reflect your indoor space. This is a great home renovation project because it prevents potential damage like mold and fallen tree branches. A stump grinding service can be expensive so make sure you have all the information before it happens. Asphalt paving can be a cost-effective and long-lasting way to improve your landscaping.
Fiber cement siding
Extreme weather conditions and insects can cause damage to your home's exterior. Fiber cement siding is a good choice if you need to make frequent siding repairs. You will also be able to choose from a wide range of siding styles and designs to give your home a new look.
Renovation and home improvement benefits
You can improve functionality by redesigning your home. This allows you to create a space that suits your needs and preferences.
Property value enhancement – by upgrading your home you can also increase its market value in the event you decide to sell it. Your initial mortgage may turn out to be a profitable investment.
Energy efficiency can be increased by upgrading your electrical system or incorporating new light fixtures. This will reduce your electricity bills. Modern technology has made it possible for construction materials to be used to insulate homes. This will also help regulate temperature. To save money, your HVAC system may be able to stop running constantly.
Maximizing space – custom home renovations allow you to maximize space and make it more useful. Online resources can help you find ways to maximize space in your home and give it a bright, airy feel.
You can increase the lifespan of your home with custom home renovations. This will help you to identify areas that require repair and include them in the renovation. These problems can be fixed and saved money on costly home repairs if they are discovered later.
You must clean up after your renovation project is completed. There will be a lot of construction debris on the site. You need to remove it. You may need to hire professionals to remove some of the waste. Dumpster rentals are a great option because they can be easily rented and have a convenient way to clean up your waste. To ensure that you dispose of waste safely and properly, make sure to include junk removal costs in your renovation budget.
You don't have to spend a lot of money on home improvement projects. However, if you set a budget and follow the tips, you can make your home look great. It will be easy to DIY many of these tasks while keeping the cost low. Research is an important step to get the most from your budget. It also helps you avoid common pitfalls that homeowners make. Research is a great way to find out how to do it yourself, as well as where you can buy inexpensive materials. You can also use recycled materials to reduce your costs. If you have any questions, don't hesitate to call a professional. Do not let a poor job ruin your finances.