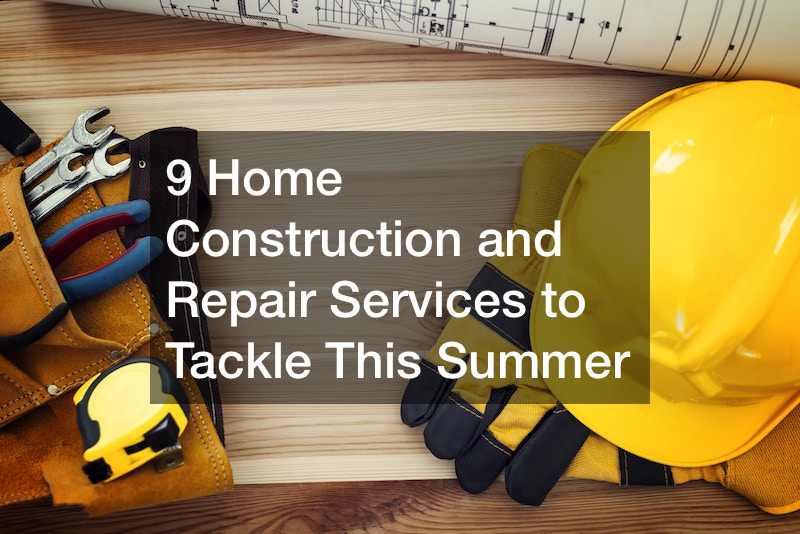 9 Home Construction and Repair Services to Tackle This Summer
According to Renofi, summer is one of the best and most popular times for home repairs and renovations. The long days, warm weather, and natural light offer the perfect conditions to handle your home improvement projects. On top of that, summer is when you're most likely to take a holiday to spend time with your family. So, why not set aside a few days to handle some repairs and renovations in your home?
You can choose from many ideas when planning a summer home improvement. These can range from minor repairs and renovations to major remodels. Below is a look at some of these projects and the construction and repair services you can hire to guarantee their success.
Maintain, Repair, or Upgrade Your Roof
Roofing is one of the top construction and repair services you can hire during summer. The favorable weather and long days make it the ideal time to handle major roof projects without fear of delays. Also, a roofing service can protect your home from the summer heat while ensuring your house is ready for the upcoming colder seasons.
Repairs and maintenance are one of the best roofing projects to tackle during the summer. Fixing any roof issues in summer can save you from calling a roofing contractor during winter's cold and wet weather. On top of that, keeping your roof and gutters in perfect condition will increase their durability against rain and falling snow in the coming months.
Installing a new roof is another project you can tackle in the summer. If you've been having issues with your roof, the summer season is the best time to hire a roofing service for a replacement. A new roof can increase your home's energy efficiency, protecting you from high temperatures.
Lastly, you can invest in roof upgrades, such as solar panels. According to Today's Homeowner, installing solar panels in summer can help you take advantage of the bright and intense sunlight. As a result, you can keep your cooling costs down while stockpiling energy credits that will offset your heating costs in the coming colder months.
Repair or Replace Your HVAC System
Air conditioning is vital in keeping your home cool during the hot summer weather. So, having a faulty or inefficient AC can make your house unbearable. On top of that, according to the National Institute of Health, poor air conditioning can cause heat-related illnesses, which can even turn fatal. Therefore, HVAC services are among the most critical construction and repair services you can hire in summer.
AC maintenance is one of the top HVAC services you should hire during summer. Of course, getting your air conditioner serviced before summer begins is the best option. But if you haven't, now's the perfect time to call an HVAC contractor.
The AC technician you hire can offer vital services such as replacing the filters, cleaning the ducts, and checking on the refrigerant and wiring. They can also check that your thermostat is working perfectly, ensuring you don't run into any cooling issues as the temperatures continue rising.
Besides AC maintenance, you may also need to hire an HVAC repair technician. It's hard to survive without a working AC in summer. So, you should immediately call a technician for repairs if you have issues with your HVAC unit. You can also replace your air conditioning system if the current one is outdated or not cooling your home sufficiently.
Install a Swimming Pool
Swimming pools and summer go hand-in-hand. Having a pool in your backyard during the hot season lets you relax and wash away the heat. It's also the perfect place to spend time with your family, especially if you have kids.
According to the CDC, swimming can offer several benefits, including improving your physical fitness & mental health and alleviating pain. So, pool building services are other top construction and repair services to hire during the summer.
You can consider several options when installing a pool in your backyard. The first is an in-ground swimming pool, where you hire a professional pool installation company to build a permanent pool structure. This can be done using concrete, with either a plastered, tile, or stone finish. However, if you're looking for a faster installation, consider a fiberglass or vinyl pool.
An above-ground pool is another excellent option for your summer pool project. It's the fastest option, allowing you to start enjoying the warm weather as soon as possible. It's also more affordable, and you can choose from various shapes, sizes, materials, and design options.
Improve the Insulation
It might seem counterproductive, but improving your home's insulation can help to keep you cool in the summer. According to a study published by ScienceDirect, increasing insulation helps to offer better indoor thermal environments. This can keep your home cooler and more comfortable during the hot season. So, if you're planning any summer home improvements, insulation is another one of the top construction and repair services to hire.
You can choose from several insulation ideas when planning home improvements for the summer – depending on the condition of your home. For example, you can hire a contractor to install insulation – which may be necessary for an older house or have recently constructed a new one.
You may also need to replace your home's insulation if the current one has been damaged – for example, by water, fire, or mold. Additionally, according to the EPA, insulation in some old houses contains toxic substances such as asbestos. Therefore, on top of improving energy efficiency, replacing the insulation can make your home safer.
Lastly, adding more insulation to your home is another project you can tackle during the summer. Extra insulation may be necessary if you have poorly insulated areas, for example, the roof, basement, or garage. You can also add insulation as part of other home remodeling projects – for example, when finishing the basement, remodeling the garage, or building an addition.
Upgrade the Plumbing System
According to The World Economic Forum, the extreme summer heat can also cause water pipes to burst, thus making plumbing maintenance and repairs vital. Additionally, plumbing issues can leave you with no running water, which can be dangerous, especially during heat waves. Furthermore, a plumbing project in the summer ensures that your system is in peak condition as you head into the cooler months. This can help you to avoid a plumbing emergency in winter.
One of the top plumbing projects you can invest in the summer is the maintenance of your system. You should hire a plumbing contractor to check your pipes for any damage that may have occurred during the previous cold months. You should also hire plumbing maintenance services such as drain cleaning and unclogging, thus ensuring your drains are running perfectly.
The increased water use during the summer can also cause your septic tank to fill up or, worse, lead to damage. Therefore, you should look into septic companies that can offer septic maintenance services, especially if the tank has yet to be serviced recently. In addition, you should call a contractor for emergency repair if you notice any septic system issues.
Lastly, summer is a great time to carry out plumbing upgrades to your home. For example, you can hire plumbers to install water-saving toilets, faucets, and other fixtures. This can reduce your water consumption during the summer, which can lower your bills – on top of helping conserve the environment.
Spruce Up the Walls
You should update the walls if you're looking to hire more construction and repair services during the summer. The warm weather is the perfect time to spruce up your walls when you don't have to worry about weather delaying your repairs or construction work. On top of that, tackling your wall project during the summer ensures that your walls are protected from the upcoming harsh winter weather.
One of the top wall projects you can tackle during summer is painting your walls. A fresh coat of paint can help fix wall damage, offer protection against the elements, and improve your home's aesthetic appeal. The best part about painting during the summer is that the warm weather allows the paint to cure faster.
Besides painting, you can spruce up your walls by covering them with sidings, tiles, wallpapers, decorative panels, etc. These solutions can help hide several defects in your home's walls. They can also help improve your home's aesthetic appeal, making it more beautiful and inviting.
Lastly, you can invest in a major wall project for the summer. For example, you can knock down a wall to increase a room's floor space or improve the floor layout. You could also demolish a wall with a compromised structural integrity and build a more stable one. But, to avoid costly mistakes, you should hire a demolition company for any wall project that requires tearing down your walls.
Improving the Flooring
A flooring project is another excellent reason for hiring construction and repair services in the summer. Like other renovations, the warm weather will make carrying out flooring work easier and faster. On top of that, during summer, most people spend their time outdoors; thus, an indoor project will only cause minor disruptions to your family's daily routines.
One of the top flooring projects to tackle during the summer is the repair and maintenance of your floors. During this season, your floors will likely experience high foot traffic – on top of increased dirt and debris in the air. Furthermore, the summer heat and humidity can affect hardwood floors, causing them to deteriorate. So, you must invest in services such as floor cleaning, sanding, polishing, and re-staining to keep your floors in perfect condition.
Floor replacement can also be an excellent idea for summer home improvement. The new floors can help to spruce up your home, improving its appeal and functionality. On top of that, flooring options such as stone, tile, and cement floors can help to cool down your home. This can help make your home more comfortable while reducing the cooling costs.
Install a Fence
The summer weather is great for working on an outdoor project like a fence. Furthermore, according to AZ Big Media, the summer heat and humidity can damage your fence, making repairs necessary. On top of that, your wall could have been damaged by the wet and cold weather before the summer season – with the summer heat exacerbating the damage.
Fence repairs, maintenance, and restoration are some of the top construction and repair services you can hire for your summer home improvement. A contractor can fix your damaged fence, latches, and gate. They can also refresh and restore them through services like power washing and painting, giving your fence – and home -a new look.
You can also hire a fence installation company to replace your fence or install one on your property. The new fence can help significantly improve your property's curb appeal. It can also increase your home's security and privacy, allowing your family to spend more time outdoors during summer.
During the summer, you can also invest in fence upgrades for your property. For example, you can install an electric fence, a privacy screen, or add height to your fence for more privacy and security. You can also plant plants and flowers on your fence – a great summer activity that can help boost your home's curb appeal.
Build a Deck
Deck services are other top construction and repair services to hire during the summer season. A new deck area can offer your family a beautiful outdoor space to relax, soak in the summer sun, and enjoy the fresh air. Furthermore, the summer is the best time to restore your existing deck for use or maintain it to protect it from the extreme sun.
Building a deck is one of the best summer projects you can invest in. You can choose from various decking materials like wood, plastic, composite materials, fiberglass, aluminum, engineered wood, polystyrene, etc. If you're unsure about the material, the deck building contractor will help you choose an ideal material for your area.
If you already have a deck on your property, summer is the time to give it some TLC. For example, you should repair or replace damaged or rotting deck boards. You can also restore the original appeal of your deck by power washing, re-staining, or re-painting it. Other deck repair and restoration solutions include mold & mildew removal and water sealing. You can also upgrade your deck with a more durable material. Alternatively, you can go for a complete deck replacement – if it's too damaged.
Improving your home during the summer can make it more comfortable and enjoyable. It can also ensure the house is in peak condition as you head for the colder seasons. If you're planning any projects for the summer, the above are some of the top construction and repair services you should consider hiring.