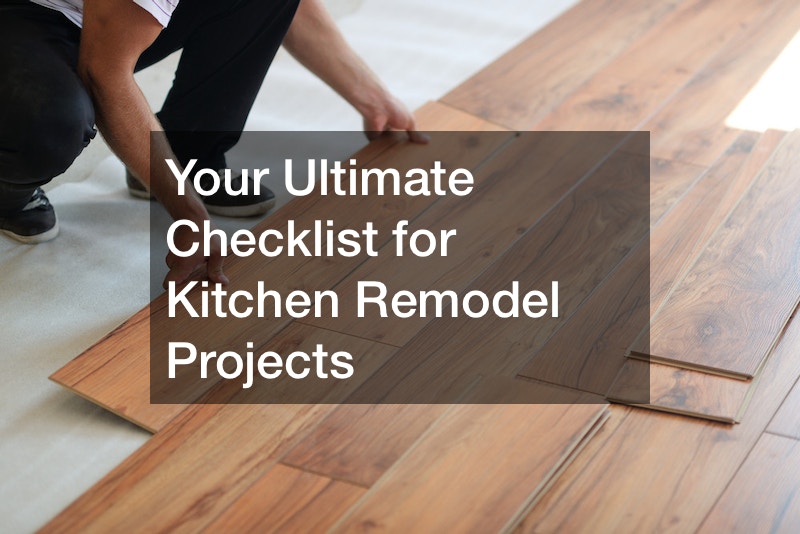 Your Ultimate Checklist for Kitchen Remodel Projects
Kitchens are the heart and soul of every home and offer us a space to craft amazing dishes and loving memories. Despite their influence on our daily lives, these spaces can often become disheveled and damaged, causing us to experience an abundance of further issues. Not to mention, since we use our kitchens on a daily basis, these concerns are sometimes pushed to the side, leading them to get worse and worse. If you are finally ready to get the kitchen you've always dreamed about, be sure to add the tips and tricks discussed in this article when creating a checklist for kitchen remodel projects.
Signs Your Kitchen Needs Remodeling
You Have Altered Your Diet
Whether you have started a new fitness routine or are looking to make some healthier choices, your diet can impact the relationship you have with your kitchen. If you are surrounded by dated appliances, broken equipment, and unsuitable cutlery, you may not feel motivated to create a nutritious meal and may, instead, just order a pizza. When producing a checklist for kitchen remodel projects, it is important that you notice how your space is affecting your usual dishes and how you can work to improve your relationship with food.
The Decor Seems Old Fashioned
Although a vintage-style kitchen can help to give the space a sense of rustic charm, it can make the rest of your house look decrepit and out of touch. Some homeowners do not think about redecorating their kitchens along with the rest of their property because they view the kitchen as an entirely functional space, rather than a collective hub. However, when deciding on an adequate checklist for kitchen remodel projects, be sure to analyze how you can implement the common themes seen around your house in this space.
The Kitchen Makes You Feel Stressed
If your stomach is in knots every time you step foot in your kitchen, it may be time for a change. Many people feel extremely overwhelmed when working in the kitchen and would just rather avoid this space altogether. This can cause them to feel a lot of anxiety and lead them to experience stress in other key areas of their life, such as work and relationships. Over time, these issues can begin to affect their physical health, prompting symptoms such as poor sleep, weight gain, and high blood pressure.
You Are Running Out of Space
Cooking can truly bring the whole family together, but it often requires a plethora of equipment and effort. If you find yourself stumbling over pots and pans or shoving ingredients into the pantry and hoping that they don't fall out, your kitchen may not suit your current needs. Space is a crucial element of any functioning home, and it is paramount that homeowners have enough space in their kitchens to ensure that the entire family can prepare the meals that they love.
Your Energy Bills Are Soaring
For those who wake up in the middle of the night worrying about the cost of their next utility bill, the culprit may be your kitchen. Older appliances can use a lot more energy than their modern counterparts, leaving you with no option but to foot the bill. Thus, it is important that you learn to judge the quality of your appliances and tools when forming your checklist for kitchen remodel projects.
9 Elements to Add to Your Checklist for Kitchen Remodel
1. Upgrade Your Flooring
Though it may not seem like the most important aspect, your flooring can make or break the entire look of a kitchen. If your vinyl flooring has become distressed and defaced over time, this is a sign that it needs replacing. Some homeowners are eager to make their flooring more secure and functional, adding a collection of non-slip tiles to ensure that their projects can continue running smoothly. This flooring should be installed by an experienced contractor, who can also offer a lot of advice and guidance on how these tiles can be cleaned and maintained to extend their longevity.
2. Fix Existing Appliances
If you are building a checklist for kitchen remodel projects on a budget, it is vital that you work with the resources that are already available to you. For example, if your appliances are in good condition but are in need of a few simple repairs, consider getting in touch with a refrigerator repair service. These experts can conduct a detailed survey of your refrigerator and solve any issues that may have built up over time. Thus, you can continue to use your appliances on a regular basis without having to fork out an excessive amount of money for a new one.
3. Improve Your Water System
A hygienic water system is a pivotal part of any kitchen and every homeowner deserves easy access to safe and clean drinking water. If you need to get clean water and are not sure where to start, it is good practice to recruit the help of an expert plumbing contractor. These workers have a good understanding of a conventional water system, so they will be able to fix any problems and ensure that your running water is being retrieved from a safe and healthy resource. In turn, homeowners no longer have to worry about using water in their dishes and do not have to stress about the quality of their home's water sources.
4. Add a Pop of Color
Many homeowners prefer to adhere to a sleek and modern style when decorating their kitchens, but this can sometimes cause them to look bland and overly clinical. To escape this trap, consider hiring a selection of painting professionals to help give your kitchen a touch of vitality and brightness. These contractors can also help you decide on the best color for your space and can get the job done much quicker than a typical homeowner. As such, you are free to enjoy every aspect of your new and improved kitchen without having to do any of the hard work yourself.
5. Amplify Your Storage
Common items such as baking tools, silverware, and appliances can take up a lot of storage in our kitchens, leaving us feeling claustrophobic and trapped as we continue to collect more stuff. For those looking to extend the capacity of their existing storage space, a new set of kitchen cabinets could be the ideal solution. With an abundance of different styles to choose from, homeowners now have the prime opportunity to reinvent their kitchens, giving them the chance to really enjoy the space. Plus, these cabinets can help to offer a ton of extra storage options, allowing you to keep on cooking and adding to your collections.
6. Include More Modern Touches
Every new kitchen remodel deserves a few extra touches to help it stand out and be more appealing. With the advent of smart home devices, homeowners can now automate their kitchen to give them a more high-tech experience. These devices often use voice-activated commands to set timers, read recipes, and add certain items to your online shopping lists. As such, by including these modern elements on your checklist for kitchen remodel projects, you can benefit from a smoother cooking experience, giving your dishes a unique sense of flair and creativity.
7. Plan Ahead
Though it can be tempting to get all overexcited and start renovating your kitchen straight away, it is important that you plan each process in advance to ensure a simple transition. A good way to achieve this is to contact an assortment of trained kitchen design contractors who can help you express your ideas effectively and ensure that they can be carried out safely and securely. Thus, homeowners are reassured that their dream kitchen can be turned into a reality without having to limit their expectations.
8. Add Outdoor Elements
If you and your family are devoted fans of al fresco dining, be sure to ask your kitchen contractors if an outdoor kitchen space is on the cards. These kitchens can help you to prepare a wealth of spectacular dishes, all in the confines of your own backyard. Plus, they are a great way to get the whole family involved and help every member enjoy this new style of expressive cooking. Just ensure that all the elements can be installed safely to reduce the risk of accidental fires or smoke hazards.
9. Include Some Sentimental Touches
Although a typical kitchen renovation may involve completely dismantling a space and starting from scratch, it is still important to include some cherished items in your new space. Perhaps you have a few family heirlooms that you would like to place front and center, or maybe you still enjoy placing the kids' pictures on the fridge door. Regardless of what makes you happy, remember to include these motivations in your checklist for kitchen remodel projects as it can help to make your house feel more homely and intimate.
Benefits of Remodeling Your Kitchen
Can Increase the Value of Your Property
Kitchens are often regarded as key selling points, which is a useful thing to note if you are looking to enter the property market soon. Even just a few added touches can really improve your space and make it more attractive to potential buyers. These elements can also make your home more competitive against others in your area, which can promote a lucrative bidding war if it has attracted a large pool of buyers. Thus, you can gain a hefty return on your investment and potentially have enough money to furnish and decorate your new place.
Offers a Great Space for Reunions
Reconnecting with loved ones can be an arduous task, especially when your kitchen is falling short of the mark. By adhering to the demands of the checklist for kitchen remodel projects, you can transform your kitchen into the place to be, allowing family and friends to spend more time in your home. Thus, you now have a perfect excuse to host regular dinner parties and gatherings in your new and improved kitchen.
Helps to Save Energy
An effective kitchen remodel can place a plethora of energy-saving appliances at your disposal, helping you to make more environmentally-conscious decisions when cooking. These appliances often use less energy, which can help us to preserve the earth's natural resources. In turn, by getting your hands on a selection of bright and shiny kitchen gadgets, you are also doing your bit to save the planet.
Reduce Food Waste
Essential commodities such as clean running water and heating can truly transform how our food smells and tastes. This is particularly beneficial for those who are trying their best to eat better or live in a home with very fussy eaters. Plus, when the food tastes better, you are more likely to finish your meals and leftovers, ensuring that you are no longer wasting crucial ingredients or driving up your food bill unnecessarily.
Makes Your Space More Accessible
If you are disabled, navigating your way around a tired and distressed kitchen can be a challenge and may make you not want to prepare another meal for yourself ever again. Yet, by adding a selection of simple alterations to your checklist for kitchen remodel projects, you can now use your kitchen to the best of your advantage. Assets such as handrails, pull-out shelving, and wheelchair ramps can make it easier than ever to prepare your favorite meals in style. This benefit also relates to older individuals who are still eager to hold on to their independence as they approach their golden years.
A new kitchen can totally transform our lives, allowing us to enjoy a ton of delicious meals without having to weave in and out of a messy space. However, these advancements can take a lot of time and effort, leaving many homeowners feeling overwhelmed and discouraged. If you are looking to reap the benefits of a renovated kitchen for yourself, be sure to add these suggestions to your checklist for kitchen remodel projects.