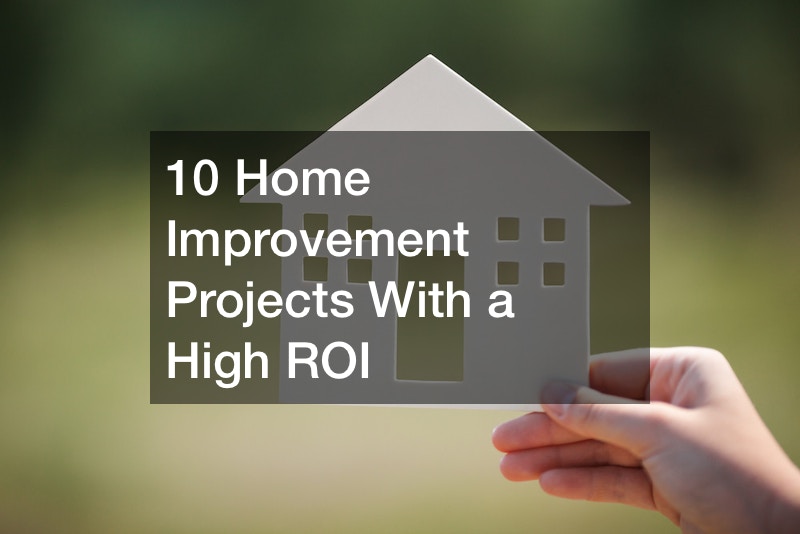 10 Home Improvement Projects With a High ROI
You might have many reasons for wanting to remodel your home, but intentionally choosing high end renovations is the most beneficial. These improvements will increase the money you get back when it comes time to sell your home, thus skyrocketing your ROI. You'll need to keep ROI in mind as you consider the multitude of options you have for home improvements and choose the ones that make sense to you because they can bring the biggest return. The following are some ideas for renovations you can perform to achieve optimum results:
1. Kitchen Remodeling
Kitchen remodeling is rightfully on the list of high end renovations you can do if you want to increase your ROI upon selling your home. You can get a high return if you decide to delve into improving the innards of your eating quarters. The goal should be to perform renovations that you and your family can enjoy while you are there and then get most, all, or more of your money back when selling.
Kitchen remodeling typically has two major types. Minor repairs might include changing out your cabinet tops or switching your countertops from one material to the other. You might also want to do a little painting if you think of some new kitchen designs you like.
Major repairs would include changes such as energy efficiency improvements or the installation of an entire set of custom cabinets.
Remodeling Magazine quoted the national ROI of kitchen renovations at 53.5% for major renovations in 2018. IProperty Management has it at 67% for 2022 but does not break it down into minor and major repairs. Judging by these numbers, you can assume that your high end repairs will not only help you sell your home but also give you a fair amount of your investment back. Therefore, it's worth the expense if it helps you enjoy your home better and gives you the potential to get a greater return than expected.
2. Garage Organization
The next area you want to explore is your garage. Many positives come along with performing this type of renovation. For one, you will have more storage room for the items that need to be put away during certain seasons. You'll also have much more space to park your car. Furthermore, you can increase the convenience factor for yourself and your family members if you decide to perform certain repairs.
For example, you might decide to install an overhead door. This type of door swings open horizontally instead of moving up vertically. You might be interested in that type of contraption for its uniqueness or convenience. Another renovation you might wish to make could involve moving to an electric garage door instead of a heavy manual door. That can increase your ROI, too, as many people will be interested in the convenience factor.
The most advantageous way to proceed with this type of renovation is to contact a reputable garage door company and speak to a specialist about the options you have for renovations. Let this person know your ideas and allow them to inspect your home. He or she will then provide ideas that fit your vision most accurately.
Remodeling Magazine listed garage door renovations as the number one home improvement for ROI in 2021. They stated that consumers could easily get an average of a little over 93% back on their investment. Therefore, your garage door is most definitely something you will need to consider improving. The closer you get 100% of your funds back, the wiser your renovation choice is.
3. Bathroom Remodeling
There are many reasons to consider doing high end renovations on your bathroom. The bathroom is easily the most important room in the home since residents go to relax after work, relieve themselves, and clean up for the day. Most people want to walk into a pleasant environment to perform those activities. Thus, changing how your bathroom looks will be a positive action for your family members. You also might consider making some changes that will add to convenience and comfort. There are probably 100 different things you could do to your bathroom when you remodel.
Installing a new tub is one idea to consider if your current tub is worn, unattractive, or inappropriately sized. You might also want to change the tiles or lighting to give the area a new feel. Another idea is to install a more ergonomic shower head.
To get sound advice, you'll need to contact a company that provides home improvement services and focuses on the bathroom areas. Schedule a consultation and ask that agent every question you can think of to get an insight into the project you're about to embark on. IProperty Management says major bathroom renovations could give you a return of about 71% as of 2022. They also claim the average profit is about $25,000.
4. Flooring Replacement
Replacing your flooring is yet another one of the high end renovations that will give you an excellent return. Remax says you can receive 100 to 150% of your investment back if you change your flooring. The difference in ROI will depend on the type of flooring you choose. Typically, hardwood floors fare better than laminate floors, but the choice is yours. Flooring stores have a broad range of materials you can choose to create the effect you want.
If you're unsure what the benefits of a flooring service are, you can think of comfort, cost, and visual appeal. A simple change in your flooring can save you money on electric bills by providing extra insulation. It can also make the floor more comfortable for you, your children, and your pets.
Moreover, changes to your floor can put you in a whole new mindset. It might give you a 'new home' feeling that makes it easy for you to spend another few years in your home. Thus, changing your flooring can be good for your mental health and your wallet at the same time.
5. Roof Replacement
Residential roofers can help you renovate your roof for maximum ROI. They can make the repairs necessary to make your home safe for your family and the families of the next people who move into your home.
Roofing replacement may be the right investment if you live in an older home. Many types of roofing only hold up for 20 years and sometimes need to be replaced before then. A new roof can also be eye-candy for shoppers looking for attractive homes. IProperty Management lists roofing replacement as having one of the highest ROIs in the entire market. The company claims homeowners can get 100% percent of their investment back on such projects. You would do yourself a disservice by skipping this one on your list of renovation projects, for sure.
6. Exterior Painting
Exterior home painting is another one of the high end renovations that can get you a significant return while providing you with satisfaction about your home and environment. It should be on the top of your list of changes because of all the benefits you can receive. Firstly, it's one of the renovations that can earn you more than 100% ROI. According to iProperty Management, the average ROI for exterior paint jobs is 152%. That should motivate you enough to start thinking about what colors you want to paint the outside of your home.
Not only will you earn a profit by changing the paint on the outside of your home, but you will also pique the interest of people shopping for homes. That's if you make the right choices when deciding what to do with your home.
Uniqueness is the result you'll need to seek when you perform this project. The goal is to create something that stands out in the neighborhood and gives your home its personality. Home buyers will pay more money for something that looks different from everything else.
However, you must remain tactful and choose attractive colors for your renovation. You don't want just to be different. You want to add an attractive flair that magnetizes the masses. You can choose from various colors, shades, and hues. It's best to contact someone who specializes in decorating. An interior or exterior decorator will be the perfect advisor because this person will know which colors work best with your overall vision.
7. Porch Additions
Adding a porch is one of those high end renovations that doesn't have the best ROI, but it can sell your home faster. Its ROI isn't bad. It's about 61% with an average profit of $5,700, according to iProperty Management. However, most of the benefit in making this renovation comes from what it can do for you and your family, more than how much money it can earn you.
A porch can give everyone in your home a place to relax, regroup, and get fresh air. You can do many creative things if you build a porch, too. For example, you might want to add a swing set to your porch so you and your partner can sit together and watch the moon and stars. You could also decide to install a grill setup to have some neighborhood cookouts or Sunday brunches. You get the idea. Porches can be wonderful additions to your home. They can be your favorite part of the home and serve you well the whole time you dwell there.
8. Change the Front Door
Many reasons exist as to why you might want to contact a door company and order a new front door. Security reasons are the first that come to mind. With crime rates rising daily, it's wise to make this change if you have an outdated door.
Doors can also add a bit of personality to your home. That's another reason to perform one of these high end renovations. Installing a new steel front door can get you a healthy ROI of about 63%, according to iProperty management. That sounds like the product would be worth it if you want to give yourself peace of mind about break-ins and other such mischief.
9. Install Vinyl Siding
New vinyl siding can do wonders for your home. It can also give you an 82% investment, according to iProperty Management. It's one of the first high end renovations people usually make to their homes when they want to put their personalities into it. Such a vast assortment of siding options exist that you can create just about any vision. You can have someone install siding that looks like bricks or stones or use an appealing solid color for your project. Spend some time talking to an expert and looking through a portfolio of completed projects to find the best option for your home. This is the best way.
10. Window Renovations
Many people forget about their windows when considering high end renovations to perform. Windows are crucial to the home because they protect everyone from pests, cold air, crime, etc. They can also add elegance to any home. Thus, you may want to think about speaking to someone about making a few changes to your windows.
It might be well worth it for your enjoyment and the ROI. This renovation can get a 63% ROI if you choose wood windows. Other window types might provide more or less of a return. To find out more, contact a window installation company and have them discuss the various options, how each can benefit you, and what the cost and return are for each option. You and the provider will work together to develop the most effective solution for your home.
You just read some of the most beneficial selections for high end renovations. You can begin with this list and decide whether those renovations will benefit your home and your vision. You can also do additional research and read about some other options. There are hundreds of changes you can make to your home to benefit yourself financially and in other ways. Take your time and ensure you do calculations and speak to at least three experts before choosing a home remodeling project. Ask all the questions you need to ask so that you can get well-rounded answers and make the best decisions for your family.